Kathmandu Durbar Square
's
asdfasdfasdfKathmandu's Durbar Square is one of three durbar (royal palace) squares of the Kathmandu city. This is the place of the Hanuman Dhoka Palace, which was the royal Nepalese residence until the 19th century and where important ceremonies, such as the coronation of the Nepalese monarch, still takes place these days. The palace is divided into two main chowks, and was originally constructed in the 16th century, although subsequent additions were made in the Shah (Gurkha) dynasty in the 18th century and by the Ranas in the 19th century. The palace is decorated with elaborately-carved wooden windows and houses the King Tribhuwan Memorial Museum, dedicated to the monarch who opened Nepal to the outside world, and the Mahendra Museum, dedicated to his son, King Mahendra. It is also possible to visit the State Rooms inside the palace. At the southern end of Durbar Square is one of the most curious attractions of Nepal, the Kumari Chowk., A young girl chosen through an ancient and mystical selection process to become the human incarnation of the Hindu mother goddess, Durga. She is worshipped during religious festivals and makes public appearances.

Swayambhunath( Monkey Temple)
Swayambhunath( Monkey Temple) is decorated with a colourful fluttering of prayer flags; it crowns a hill overlooking the Kathmandu Valley and offers fantastic views over the Kathmandu city. Swayambhunath is one of the most identifiable symbols of Nepal and the painted eyes of Buddha watch all, who ascend the worn stone steps. It is listed in World Heritage Site and one of the holiest Buddhist site of Nepal, and is at the source of the Valley's fabulous beginning. Legend has it that the history of the Valley began with the draining of an ancient lake by an Enlightened Being to reveal the Valley and a lotus flower was transformed into this hill and the shining light became the stupa itself. Swarms of pilgrims and red-clad monks circle the complex, spinning the prayer wheels, while the scores of monkeys that give the temple its nickname, Monkey Temple.

Patan Durbar Square
Patan Durbar Square is counterpart of Kathmandu valley, is an enchanting combination of palace buildings, artistic courtyards and graceful pagoda style temples. Listed as a World Heritage Site, the former royal palace complex is the center of Patan's religious and social life, and houses a museum containing a collection of bronze statues and religious objects. One remarkable monument here is a 17th-century temple dedicated to the Hindu god Krishna, built everything from stone.

Pashupatinath

Pashupatinath is the most important Hindu temple in Nepaland this is one of the most important Shiva temples on the subcontinent and draws many devotees from all over India too. Pashupati is considered to have a special concern for the kingdom of Nepal. Pashupatinath, an ancient base, by the banks of the holy Bagmati River, stands the 16th century of Pashupatinath - Shiva, as Lord of all Creatures. The old buildings on the site were destroyed by Moslem invaders in the 14th century, its stone linga smashed to dust, but it rose again behind their retreating backs. Succeeding monarchs reinstated the temple and the images. The flowing Bagmati is a holy river and the ghats (crematorium) at its bank are the earnest Hindus truest cremation center.

Bouddhanath
Bouddhanath is the largest stupas among in South Asia, and it has become the central point of Tibetan Buddhism in Nepal. The white mound looms thirty-six meters overhead. The stupa is located on the ancient trade route to Tibet, and Tibetan merchants rested and offered prayers here for many centuries. When refugees entered to Nepal from Tibet in the 1950s, many of them decided to live around Bouddhanath. They established many gompas, and the Little Tibet in Nepal . This "Little Tibet" is still the best place in the Valley to observe Tibetan lifestyle. Tibetans walk with prayer wheels in their hands, and the rituals of prostration are presented to the Buddha as worshippers circumambulate the stupa on their hands and knees, bowing down to their lord.
Bhaktapur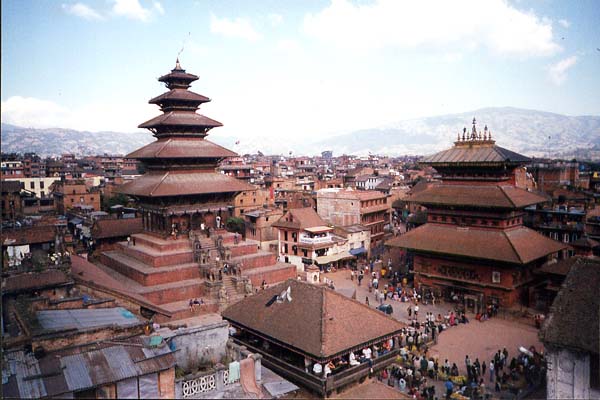 Bhaktapur ( City of devotees) covers an area of four square miles. Bhaktapur (city of devotees) still retains a medieval charm and visitors to this ancient town are treated to numerous wonders of cultural and artistic achievements. The past glory of the Malla rules continues to be reflected at the Darbar Square. Pottery and waving are its traditional industries. Bhaktapur is famous for woodcarving and the traditional topi( cap). The city located about 14 km east of Kathmandu. The places of interest include Bhaktapur Darbar Square, the National Art Gallery, Nyatapola Temple, Bhairavnath Temple, Dattatreya Temple and Dattatreya Square. Bhaktapur Durbar Square contains innumerable temples and other architectural showpieces such as lion gate, the golden gate, the statue of King Bhupatindra Malla.
Changu-Narayan Temple
Changu-Narayan Temple is another landmark heritage site just east of the valley near Bhaktapur city. The temple is one of the oldest Hindu temples around the valley and believed to be constructed in the third century. Changu-Narayan is the name of god Vishnu and the temple is dedicated to him.
Area: Kathmandu world heritage site tour
Activities: Tour and Sightseeing
Total Duration: 5 days
Group size: 1 - 25pax
Grade: Easy
Best Season:All time

Day by Day Itinerary
Day 01: Arrival at Kathmandu, and transfer to Hotel.

Day 02: Full day Valley sightseeing tour of world heritage sites - Kathmandu Durbar square, Swyambhu Nath, Bouddha Nath and Pashupati Nath.

Day 03: Visit Bhaktapur Durbar square then Changu-Narayan Temple (both are WHS) for sightseeing tour.

Day 04: Breakfast and transfer to Patan (WHS) for sightseeing tour, visiting all historical sites and free time or shopping.

Day 05: Transfer to airport for your final departure.
NOTE: The above information is an example of our standard tour, and can be customized to meet your specific requirements.